Direk Dijital Kumaş / Bayrak Baskı Makineleri
DTI Racer Flag 1803 S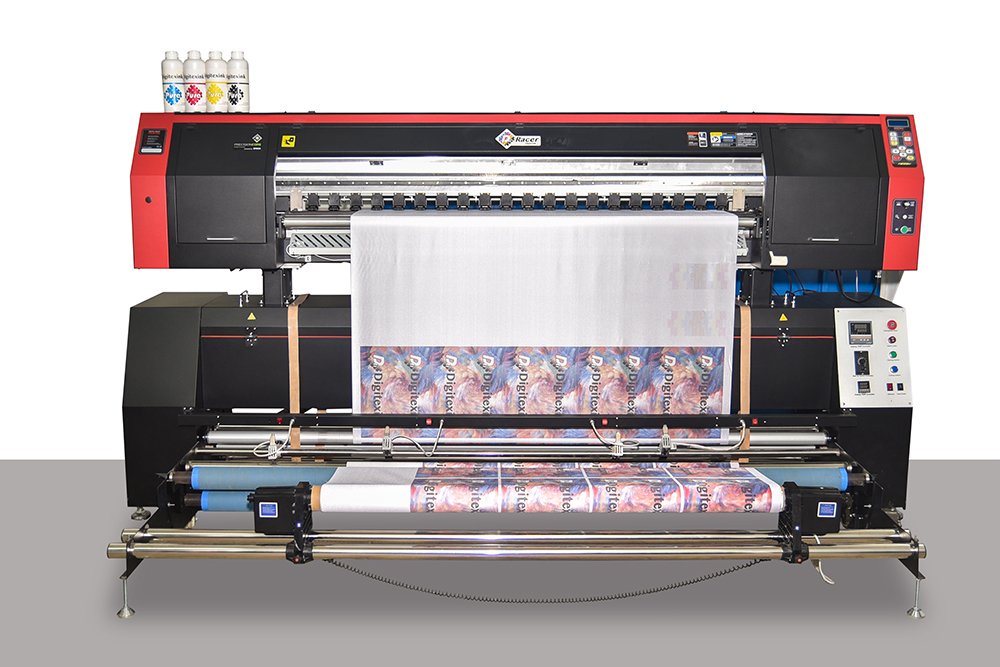 | | |
| --- | --- |
| MODEL | DTI RACER FLAG 1803 S |
| Print Head/Quantity | EPSON i3200 / 3 |
| Ink type | Sublimation and waterbase ink / 4 - 8 colors |
| Max material / print width | 1,8 / 1,8 m |
| Print Mode | 2/3/4/6/8 pass |
| Print speed | (Dx5) 16sqm/h to 88sqm/s - (3200/5113) 21sqm/h to 16Bsqm/s |
| Heating system | Stable automatic infrared heater system |
| Feeding & take-up System | Auto take-up / intelligent cutting system & media feeding |
| Media/Thikness/Max weight | Polyester , Leather , Khaki , Cotton , Linen , Silk / 1,5 - 8 mm / 75Kg |
| Photo file format | PSD/DWG/HPG/HGL/PLT/PS/EPS/2GP |
| Printing process | RIP software direct output |
| Cleaning System | Automatic cleaning & head protection cap station |
| Print interface | USB |
| Software | neoStampa / Wasatch / Photoprint |
| Packing size/weight | Printer: W 3.35m x L 0.75m x H 0.96m/ 350Kg |
| PRINT SPEED | 3200 |
| POWER / GÜÇ | 6 kw |
| COMPUTER SYSTEM / İŞLETİM SİSTEMİ | WINDOWS 7,8,10 |
| PRINTING MATERIAL / BASKI MALZEMESİ | TRANSFER PAPERS / TRANSFER KAĞITLARI |
| WORKING ENVIROMENT / ÇALIŞMA ORTAMI | TEMPERATURE / SICAKLIK : 20˚ C-25˚ HUMUDITY / NEM : 50%-60% |
| COMPUTER CONFIGURATION / BİLGİSAYAR YAPILANDIRMASI | CPU:≥ I5 , STORAGE:≥ 8G |
| LANGUAGE / DİL | ENGLISH / İNGİLİZCE |
| PRINT SPEED / BASKI HIZI - 2 PASS | 120sqm/h |
| PRINT SPEED / BASKI HIZI - 3 PASS | 88sqm/h |
| PRINT SPEED / BASKI HIZI - 4 PASS | 67sqm/h |
| PRINT SPEED / BASKI HIZI - 6 PASS | 46sqm/h |
| PRINT SPEED / BASKI HIZI - 8 PASS | 35sqm/h |
PRINTER FEATURES
▪ Professional machine body
▪ Combination of 4 and 6 color ink able to set up color according to painted pattern.
▪ Constant temperature heating color development box : temperature rising quickly, good selaing ensure constat temperature .
▪ LED lights at cleaning position and printing bed.
▪ 4 in 1 heating control system.
▪ Professional cloth feeding and take up system.
▪ Environmental smoke filtration system : it can filter sublimation smoke efficiently.
▪ 2 levels ink tank , high speed printing more stable.
▪ Lift type carriage .
▪ Unique printhead protecction stack .
HEATER FEATURES
▪ Fixer, equipped with intelligent temperature controller, auto collection speed control panel and emmergence stop button provides clients with connvenient operation
▪ Filter inside the heater, saves space and improves the effiency of drawing out the waste gas , so that assure printing under favourable environment without pollution.
▪ Cutter device should heat up to 250⁰C to make perfect cutting .